| | |
| --- | --- |
| | MoonStick, in one tool, effectively harnesses the combined benefits of the 3' and 6' extension wands. MoonStick is the ONLY high production telescoping tip extension available......anywhere! MoonStick renders the old 3' and 6' wands obsolete. Here are some of the ADVANTAGES that MoonStick can provide to a residential/commercial spray painter. |
Fast length adjustment from 36" to 65"
180 x 180 degree compound tip angle control
Quickly adjusts to 65" in 4" increments
Proven durability

Improves Painter's reach and control

Ability to keep the trigger pulled ground level to about 14'
Improves safety for the user


Increases production by reducing painting time

Less Painter fatigue
Less exposure to overspray
Manageable on ladders or lift equipment

Fewer resets of ladders and other lift equipment
Saves time, saves money, increases profit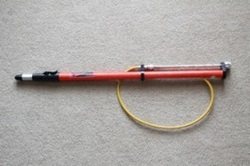 WHAT IS MoonStick? MoonStick is a tool that has harnessed all the advantages of a 6' wand while keeping the practicality of a 3' wand. This telescoping device allows the airless spray painter to apply product much more efficiently, minimizing required time on steps, ladders, scaffolding or man-lifts. MoonStick is a lightweight, rugged and durable device which is becoming essential to the efficiency and profitability of many painting companies .

WHEN WOULD YOU NEED MoonStick? Whenever productivity is important along with ease of use and comfort while maintaining complete control.

WHERE WOULD YOU BENEFIT FROM THE USE OF MoonStick? Whenever airless paint pumps are being used! With the simple click of the thumb lock, the spray tip can be extended from 3' to nearly 6' in 4" increments. With the inclusion of a GRACO Clean Shottm 180 degree swivel knuckle, the spray tip can be adjusted to cover every spray painting requirement. MoonStick can also be easily converted to a power roller simply by replacing the swivel knuckle with a power roller head.

It's a win-win solution at a very modest cost!!
(*registered trade mark item)


---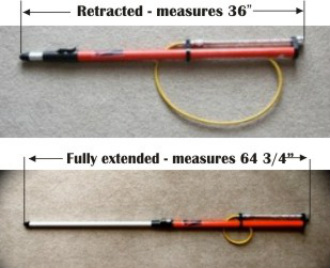 Retracted, MoonStick measure just over 36".
Extended, MoonStick measures 64 3/4".
MoonStick is extremely durable and makes the commercial/residential painter's work more productive. MoonStick is a telescoping spray tip extension. When coupled with a 180 degree knuckle it finally quenches the desire to go from 3' to about 6' (and anywhere in between) with the simple click of a button. The painter can instantly retract or extend by telescoping the extension in or out in increments of 4".

---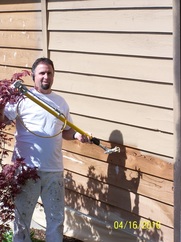 The photo at the right shows the painter adjusting the angle of the 180 degree delivery knuckle to spray the low areas near the ground. There is no need to bend to reach these areas thereby reducing the strain on the painter. This feature enables the painter to spray the interior of a closet behind doors, then change the angle to cover the ceilings of a hallway all without changing tip extensions The painter can change MoonStick's length to adapt to changes in his environment.

---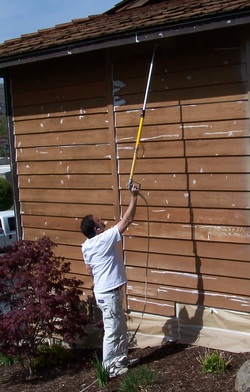 As shown in the picture to the left, the painter is reaching to the eave of the house while standing on the ground. There is no need to change from one fixed length extension to another, and clean-up is just one tool for the whole job high and low. High and low, you can DO IT ALL!!

In addition, the angle of spray from the 180 degree adjustable knuckle can be changed with a simple twist. Together, these two tools enable the painter to do his job with less effort, strain, and time. All of these factors add to the benefit of the painter. If he can complete his project in less time for painting and less time for clean-up, that all translates into a more profitable project.

Here;s another look at MoonStick in action. You can see how effortlessly the painter will complete this project. Neatly and quickly! This adds to the bottom line on any project.



MoonStuff, Inc.
P.O. Box 4885
West Richland, WA. 99353


---

For more videos of MoonStick in use check out 'About Us' page.